A Continuum of Services for Greater Rochester Residents
Thank you for visiting Thrive Physical Therapy of
Greater Rochester.
We bring our tailored physical therapy services right to you (in-home outpatient physical therapy), and we also offer individual and group fitness programs and a specialized program for people with Parkinson's disease. Our goal is to help you feel good again by matching your unique needs, interests, and challenges with a custom rehab program from a licensed physical therapist. Together, we develop an effective and meaningful program that helps you take control of symptoms and start living life on your terms. We want to empower you with the knowledge and confidence to realize your incredible potential to Thrive. Learn more about our services here or reach out to learn more.
Physical Therapy Services

Your comprehensive physical therapy program will begin with an evaluation. We'll discuss your physical therapy goals, your preferences and your previous experience with exercise. Then, we'll get up and start moving. This allows us to assess your mobility and thoroughly evaluate your individual needs. Then, we collaborate to devise a unique physical therapy plan of care that will address your most important goals and help you to overcome your biggest functional challenges.
Thrive for Life Senior Fitness Program

Our one-on-one continuous fitness and exercise program is designed for individuals who are generally well or have recently graduated from a physical therapy program. Thrive for Life is for you if you want expert guidance to stay on-track, motivated, and inspired to get the most out of your workouts and enhance your overall health. We will help you to make sure you are exercising the right way, at the right time, with the correct intensity. We can also help you maximize functionality and safety when engaging in your favorite actives, so you can continue to do what you love at any age.
Our group exercise classes are taught by a licensed physical therapist, using the most up-to-date research on fitness and movement for aging adults. We also offer classes with diagnosis-specific focuses, including group sessions for people with Parkinson's disease and other neurologic conditions, that are designed to benefit both your body and brain. When you participate in our group classes, you'll receive personalized guidance and encouragement, and be challenged physically and cognitively to do more than you think you can – all in a fun, supportive, and safe environment.
We have a knowledgeable Board Certified Neurologic specialist on our team who has completed advanced, Parkinson's disease-specific training. While this training is essential to ensure we offer quality services for our patients, what's even more important is the passion our therapy team has for working with individuals with Parkinson's disease. We truly care about helping people to live well alongside this complex neurological condition. As we do for all of our patients, Parkinson's programs will be customized to individual needs, but we often draw from the research-supported methodologies of the Parkinson Wellness Recovery (PWR!) and LSVT Big programs.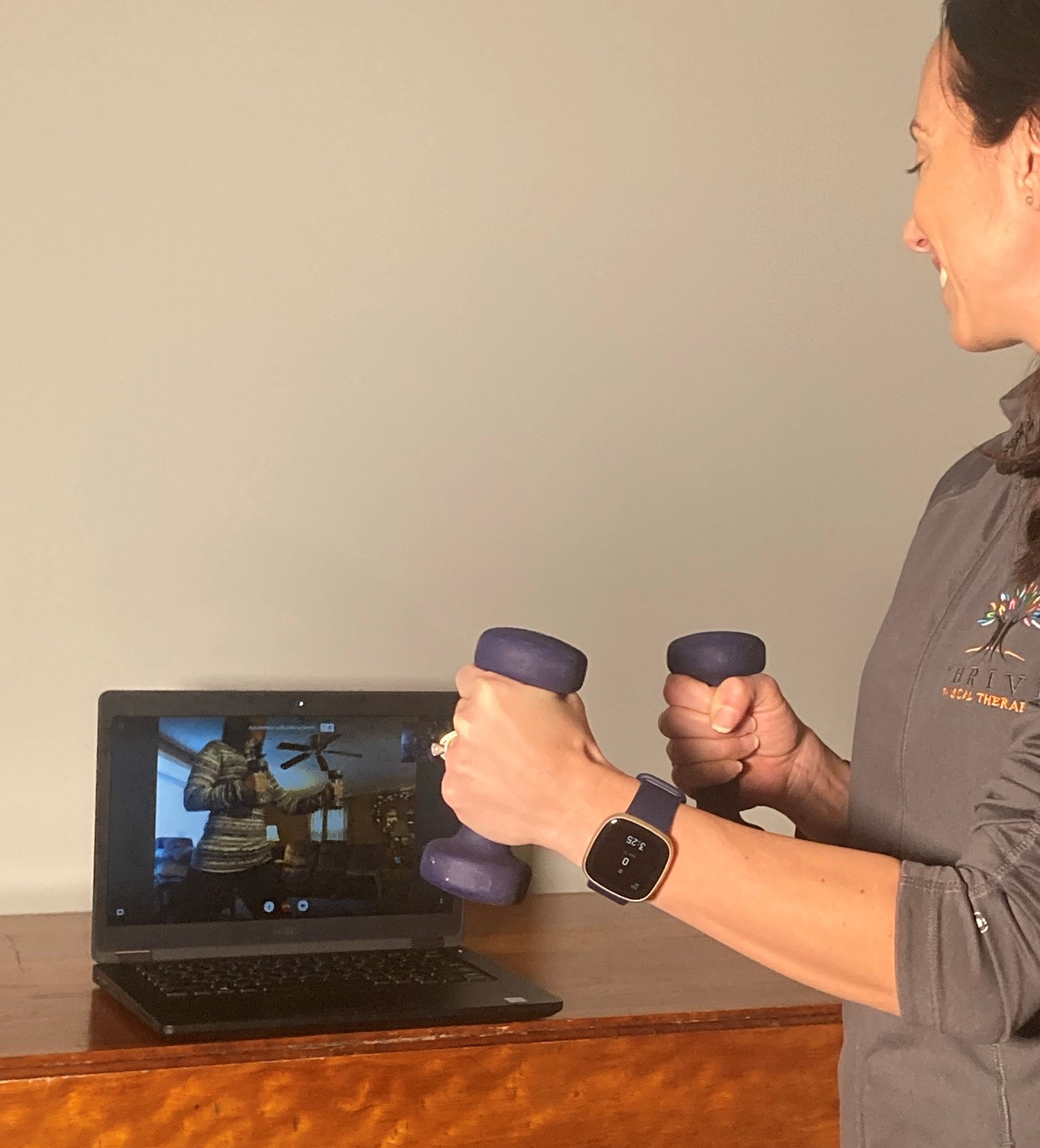 Thrive Online Physical Therapy Sessions
Thrive Physical Therapy's online video visits use two-way, real-time conferencing between a patient and licensed physical therapist who connect over the internet. You may be familiar with using video conferencing tools like FaceTime and Zoom. Our system is similar, but it is a HIPAA compliant, secure platform that ensures your privacy and security during physical therapy sessions. We find these telehealth visits to be very beneficial when patients are unable to be seen in-person, including those who live outside of our Greater Rochester service area.
Many insurance providers cover these visits – please call us to help you determine your coverage.
Ready to Thrive? Let's Get Started Today!
Thrive Physical Therapy was founded on a simple idea – aging adults should have access to quality physical therapy and exercise services that minimize their stress and maximize the results that are possible with consistent, quality physical therapy programs guided by professionals. By bringing outpatient physical therapy services to your home, we make it easy for you to stay on top of your physical therapy program and achieve the goal we're working toward together – living a thriving life today and in the future. When you're ready, we're here to help!